In order to survive the economic downturn, government departments and facilities across the state are considering how to trim the budget. In some cases, "nonessential" staff may include janitorial staff.
If you are considering how to stay compliant with COVID-19 cleaning protocols while also trimming staffing, here are some ways that outsourcing janitorial services to a professional cleaning company can save your budget.
Our goal is to work seamlessly alongside the in-house staff of large commercial spaces, such as government buildings. If we're in everyone's way, or if workers have to adjust their schedules and pacing to accommodate the cleaning services, it isn't a win for anyone involved.
Many of our longer term relationships worked as well as they did because we dedicated cleaning teams to those facilities. That meant less coming and going, and avoided circumstances where crews left behind necessary equipment at our warehouse.
It also meant those teams could be far more adaptable to what was happening each day at the facility. Different situations, like spills, accidents, or moving equipment means the cleaning job isn't simply the same repetition each day.
But being there as those circumstances arise makes it far easier to prioritize and adjust.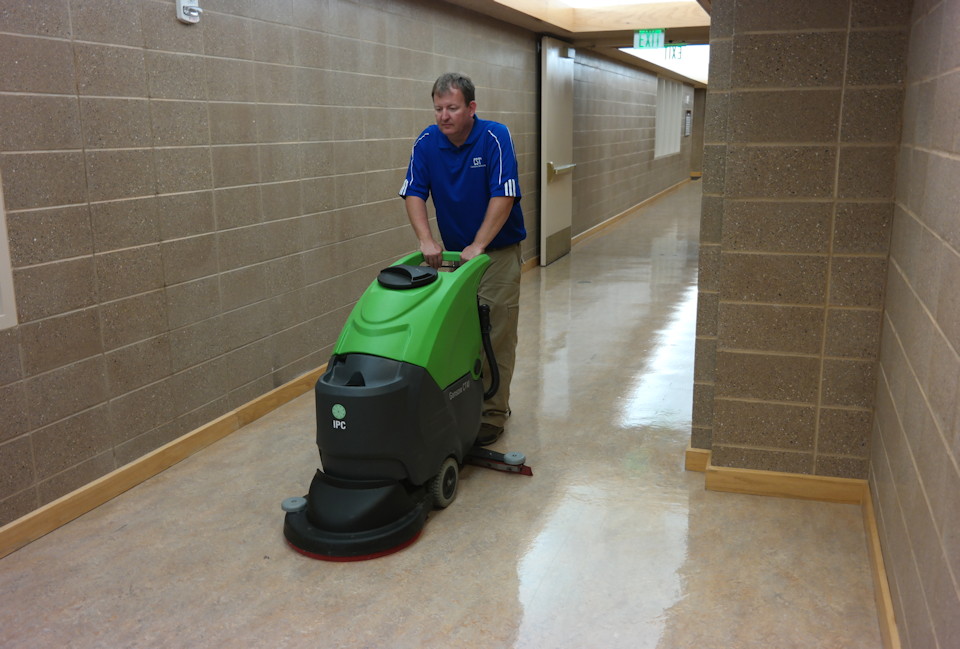 Floor Cleaning, Waxing, and All-Around Sanitizing for Government Facilities
Some businesses go years without worrying about the floors. As long as there aren't major tripping hazards everything proceeds as usual. This may sound familiar to your own day-to-day.
But beyond the difference it makes to have regularly waxed floors in terms of appearance — and it definitely makes a difference — you'll also spend less on repairs because waxing protects the surfaces. Re-flooring a large commercial space or industrial work area can be pretty costly.
Even if the floors are concrete and therefore much more durable than wood or tile floors, regular cleaning prevents surface wear, scratches, or chips that can turn into cracks.
The Latest Tech and Best Practices
Whether you work at a town hall or a parks and recreation department, your line of work likely involves a set of specific rules for how to do your job effectively and successfully — and maybe even mandated reviews.
Having a crew that is always familiar with these standards is obviously important. After all, you don't want to get stung with a penalty because your cleaning crew missed something. We consider these standards a set of standards for our own training. Crews prepping for medical and industrial cleaning undergo special training and are regularly reviewed by a member of management to ensure everyone is following best practices.
This is true even when you're prepping for a renovation or a remodel, where thorough cleaning both before and after is crucial.
Keeping dust and debris out of the air, out of carpets, and out of walkways is a basic piece of collaboration in these types of jobs that go a long way toward a seamless finish by the deadline.
In Summary, CST is the COVID-19 Compliant Cleaning Company You Can Trust
Any time you're letting someone enter your facility, you want to know they are trustworthy. We take that very seriously at Carolina Services of the Triad and background check all our employees, and employ strict training practices to ensure everyone one our team is the type of cleaner you can trust.
We've been serving the Kernersville and surrounding areas of NC for over 20 years as a family-owned company, and have the most effective and cutting edge cleaning solutions available to keep your facility spotless and completely sanitized.
Call us today to learn more about our government facility cleaning and maintenance services!